Welcome to Cleveland Salsa Passion!

Yes, salsa dancing --- to be precise, dancing salsa-bachata-merengue-kizomba etc--- is the most popular night club dancing all around the world. Moreover, it's exhilarating, addicting, and challenging all at the same time. It's not just a hobby or artistic pursuit, it's an irresistible passion, it's a lifestyle to pursue and to perfect.
As you learn and immerse yourself in popular Latin club style dancing, perhaps you will also open eyes to other styles of dancing. Latin Ballroom such as rumba, cha cha, bolero, mambo. Ballroom dancing - waltz, foxtrot, tango, Viennese waltz, quickstep. Or swing dance family - East coast swing, westcoast swing, lindy hop, jive, etc. You will not have time to be bored. The world around you will transform. Not that the world around you will change. But because salsa dancing will open your eyes to new experience around you, and you will get to meet people who are diverse and fun. Many of them have appreication for different music, culture, and art forms. It will transform your life. For the better....
We are here to help you to learn to dance Latin night club dances and get immersed in the passion of dancing!
So please join us !
Sean Youn
Cleveland Salsa Passion
Hear What Our Previous Students Are Saying About Our Class - Our On-line Reviews From Google Review Site

Location: Classes are held at Dance With Me Dance Studio in Beachwood, OH.



New Home of Cleveland Salsa Passion

If you have ever watched popular TV show "Dancing With The Stars"? Have you wanted to dance like those movie stars of your favorite dance movies?

Sean Youn (Founder and Instructor, Cleveland Salsa Passion) has opened up a new ballroom dance studio "Dance With Me" in Beachwood. Now you can learn to dance all the Latin nightclub social dances - salsa, bachata, merengue, kizomba - as well as ballroom and other popular social dances - waltz, tango, foxtrot, quickstep, Vennese waltz, rumba, mambo, cha cha, swing, Argentine tango, bolero, and samba - from friendly and certified dance instructors at Dance With Me Dance Studio !!!!.

Sean Youn (Founder, Cleveland Salsa Passion) and Alana Kish won a salsa dance competition (1st place) at Nazca Salsa Competiton(November 2015)!!! Congratulations!!




Sean and Alana have partnered up in 2015, to perform and to compete in dance competitions. Wish them good luck as they embark on the professional partnership! Both Sean and Alana are teaching as staff dance instructor at Dance With Me Dance Studio.

If you want to know what's going on this week at Cleveland Salsa Passion, please go check out our Facebook page !!!!



Nery Garcia & Giana Montoya - Boston Salsa Festival 2012 (Social Dancing)
SO YOU THINK YOU LIKE EXTREME SPORTS ?
SALSA dancing is popular all over the world. Here you can see a couple taking it to extreme sports level. But you will see later that this isn't just for professionals.
Janette Manrara and Romulo Villaverde
SO YOU THINK YOU LIKE EXTREME SPORTS (2)?
Salsa dancers dancing in a dance club in Colombia. They are doing Cali style + LA style = Extreme Sports (?). More fun !!!!!!!!!!!
HOW SALSA DANCING CAN BRIGHTEN UP YOUR SOCIAL LIFE
You have been watching salsa dancers having fun and vowed to yourself that those dancers are faking "fun". But deep inside you are curious. Yes. You want to try whatever they are doing on the dance floor.
You took some salsa class, learned some moves, but could not execute it smoothly like some people do. You decide that salsa dancing might be a great thing to watch. But not something to get passionate about. But you are somewhat lost. "What do I have to do to become great in dancing?"
First Dance at the Wedding
Salsa dancing is becoming popular at weddings. If you are single, get ready -- (watch John & Tracey's salsa wedding dance in a new browser)
What is the benefit of salsa dancing? Whether you are a beginner, social dancer, or salsa enthusiast, you will have fun. You will be doing more exercise. You will meet new people. You will make new friends. You may find a new lover. But can you go beyond? Yes. By taking dance lessons, and by gettin good, you will get to enjoy dancing more, you will have more fun, and you will be wanted on the dance floor.

So by investing your time in learning salsa dancing, you will reap multiple benefits from your dancing.

Find out how here
Never say never again !
"Love means never having to say sorry" - to a salsa dance invitation!
(recent American saying)
NO HABLO SALSA? --- How You Can Still Have Fun

If your wedding is impending, and you still have no idea on how to do salsa, don't despair. Here is a great non-salsa wedding:
The famous JK wedding entrance dance

You can still have fun even if you do not know how to salsa dance. You can learn other dances. But salsa is a partner dance. So you get to enjoy the interaction during salsa dancing. Improve your social dancing skills and when you are invited to weddings and events, you can enjoy partner dancing, and show off how you are a social butterfly.
FOR NON SALSA DANCERS ONLY - Divorce Entrance Dance?

But watch out folks. See what happens when a couple did not dance salsa at their wedding. The famous 6-month-after-JK-wedding-video.
The 6-month-after-JK-wedding-video

Fun at the divorce proceedings?
Surprising? Or entertaining?
Please do realize that the above 6-month-after-JK-wedding-video is a joke (make believe). According to the source, they are still happily married. The secret of happy marriage?
Having a hobby of partner dancing is a great way to keep a marriage happy. So why not give it a try? Go sign up for a salsa dance class today.
.
WHY LEARNING SALSA DANCING THROUGH SALSA PASSION COULD BE DANGEROUS
At Cleveland Salsa Passion, we make it easy to learn Salsa Dance and other Latin Dances. We teach Salsa, and other Latin Dances. Based in Cleveland, OH, we have weekly novice/ intermediate/ advanced classes. Come and see yourself if you like our salsa dance class. Only problem may be that salsa dancing can be addictive. You see anything that causes addiction is dangerous activity. So we say, "Dance salsa with passion, but do it in moderation."


Come Join Us !
Night Club Style Salsa, Bachata, Kizoma, Latin Dancing Class -- New session starts first week of the month.
Class Schedule---> here
Pre-register online ---->here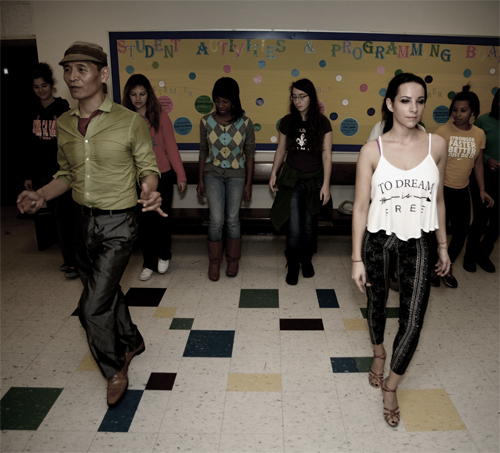 "Nightclub Style Salsa-Bachata-Kizomba Taught By Cleveland Salsa Passion"
QUOTES TO REMEMBER
Spider-Man --------- "With Great Power, Comes Great Responsibility "
Politician ----------- "With Great Power, Comes Everything Else"
(If you are neither Spider-Man, nor a politician)
---------------------- "With Great Passion, Comes Great Dancing"
Useless Tips (Laugh & Learn)